I decided to go for the gold and try using the RAMPS FD along with a Arduino Due on my "Snowstock" Delta bot build.
Unfortunately after reading through the reprap.org forum on the FD, it seems like I may have bought the board much too early from Geeetech- the board I received is the v1 rev A, and the guys developing it haven't even finished the development process yet.... So lots of know issues with this board. I guess I'll just have to jump in and see if I can get it running, and if it's too much trouble switch back to a traditional RAMPS 1.4 setup.
The 'official' documentation and other blog postings on this board is a bit thin, so I'm crossing my fingers that I'm able to get it up and running successfully.
I did find the board schematic:
http://www.geeetech.com/wiki/index.php/File:RAMPS-FD-Schematic.pdf
along with a wiki page on Geeetech's website:
http://www.geeetech.com/wiki/index.php/Ramps-FD
Geeetech does have a rather uniformative labeled picture: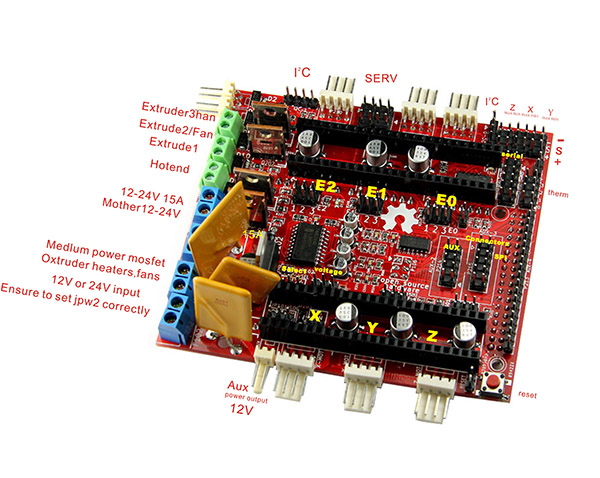 this forum has some information as well:
http://forums.reprap.org/read.php?13,244284
My first action was to try and determine the polarity of the power inputs- I really don't want to fry the board because I had my power supply hooked up backwards. When I was looking through the schematic I noticed a critical jumper that needed to be changed- JP102 specifies the board input voltage. 1-2 specifies 24v, and 2-3 specifies 12v. On my board it seemed to be incorrectly labeled- it reads as 1-2 2-4. I guessed the 2-4 pin spot was correct for my 12v power supply.
Next up was the actual polarity of the power inputs- helpfully all of the printed pin numbers are completely covered by the wire sockets on my board. The schematic seems to indicate P107 (motors only), P108 (extruder heater, fans), P101 (heated bed) all have a common scheme- #1 pin ground and #2 pin power/hot, but these pin numbers are not visible on the board.
This photo of a prototype RAMPS-FD board (from Reprap.org forum) seems to show the ground wires on the "bottom" of the board and the "power" wires "higher" on the board:
http://farm4.staticflickr.com/3708/9720665422_00f63658d4.jpg
I'll post again when I give it a go.... Hopefully no smoke for the first time it gets plugged in!